제품 설명
사양 1. 주름 호박 단 웨딩의 자 창틀 무거운 직물 높은 품질
2.140GSM
3. 다양 한 색상 옵션
4. 물 증거
5. MOQ:100pcs
Name

Crinkle taffeta wedding chair sash

Material

Taffeta fabric

Size

8''x108''

Custom made size

Style

Wedding, banquet, hotel

Carton size

56×46×36cm

Production time

5-10 days

DHL delivery time

3-5 days

Sea shipping time

30 days
주름 호박 단 시리즈: 주름 호박 단 테이블 러너, 창틀, 장소 매트, 냅킨, 테이블 피복, cover
의 자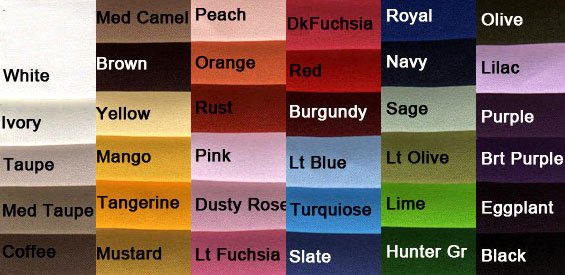 Measure: 8" wide x 108" long
Uses: chair cover, wedding, parties, celebrations, graduations, or any special event.
Sashes are shipped untied.
How to Care: Hand wash only. Hang dry, don't use dryer.
Cost listed is per piece, per 1 x sash.
우리는 중국, 테이블 린 넨, 린 넨의 자 및 그들의 액세서리의 모든 종류에 전문화에 제조 공장. 예: 옷, 냅킨, 테이블 굽 도리 널의 자 커버, 테이블 러너, 장착된 테이블 옷 및 등 표.
우리의 공장:
Why choose us??
1. Question: Can get samplebefore order?
Answer: Yes, we can provide sample to meet the request of the
clients
2. Question: How can we believe your quality?
Answer:Quality guaranteed, after the goods arrived. If any
quality problems, we can send replaced products without charge
for you.
3. How about your supply ability?
Answer:Professional production, fast delivery.
For small order, can be send out on the on the same day.
For container order, about 12-15days ship out for you.
We have many experienced workers, specially for your orders.Same as your family workers.
4. How about your service?
Answer:Quick response. The best service.
              All of these you can feel after we have started the cooperation.
5. What advantage do you have than other supplier?
Answer:The best quality, the lowest price, the best service.
어떤 관심이 우리의 제품, 제발 우리와 함께 언제 든 지 연락 하는 것이 느껴질 경우, 우리는 상호 혜택.
의 기지에 당신과 함께 친절 한 사업 협력을 설치 하 기 쁘 다
제품 디렉토리 : 자 커버 허리띠 > 주름/분쇄 된 호박 단 창틀